With the internet becoming increasingly accessible, the number of email users has increased drastically since 2017. According to Statista,306.4 billion emails were estimated to have been sent and received each day in 2020. By 2025, this figure is expected to increase to over 376.4 billion.
These numbers show that email remains one of the most preferred channels for business communication. It also indicates that email marketing is the most effective type of digital marketing that can reach out to potential customers.
Considering the fact that more than half of the world population is using emails, it's inevitable to ask the question, in an ocean of emails, how can your business email stand out from others and get higher open rates and increase ROI?
The answer is the best email marketing strategy that you adopt.
Email marketing strategies have changed over the years.  What worked a few years ago, no longer works.However, email marketing is considered the best marketing strategy as it has the potential to increaseROI by 4400%!
If you're ready to create the best email marketing campaigns, these five best email marketing strategies can help you make your campaigns more effectiveand increase the ROI.
1. Segmentation and Personalization
Segmentation and personalization go hand in hand. You start by segmenting your email list into groups of similar people based on their preferences or interests, action taken or behavior, pages browsed, purchase made, demographics, and more. This can help you send highly targeted emails that are relevant to the interests of those people.
Once you have your email list segmented, you can startto personalize your emails based on those segments.
When we say personalization, it doesn't mean that you need to send an individual email to every single subscriber.
Personalization is the best email marketing strategy where you use customer data to create a personalized message.
The simplest form of personalization is to address the reader by name.
A great example of personalization is Amazon. All of Amazon's emails are personalized.  It's not "Dear customer", but "Dear (Your Name)".
Also, a recent study discovered that email subject lines personalized with a recipient's first name enhanced open rates by 7.1%.
Email marketing automation is yet another best email marketing strategy. It is notable for its ability to improve sales productivity and greatly increase ROI.Automated emails are often triggered and are sent out automatically based on user behavior.
The most common forms of best email marketing campaigns that are sent out automatically are are 'welcome' emails, 'thank you' emails and 'transactional' emails.
Email automation will not only increase ROI but is also said to perform much better than traditional email.
Triggered emails perform really well because they hit the email marketing sweet spot.And the reason why they perform so well is because of context.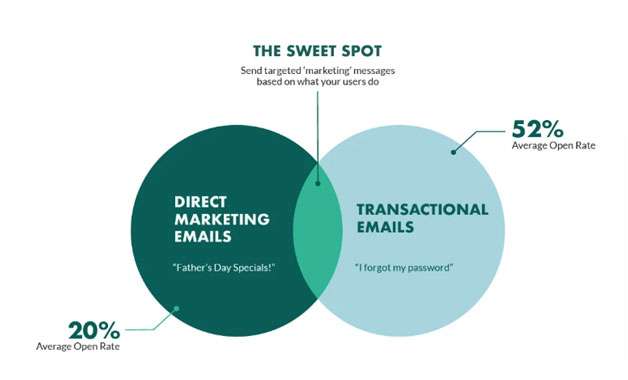 Now take a look at the following scenario.
You browse a store, add some products to the cart, and suddenly decide to leave before completing your purchase.
This problem is faced by every single online business store.
Now, you get an email with a link to the abandoned shopping cart along with a special discount code. You're more likely to complete your purchase. This is also one strategy of remarketing.
That's the potential of trigger emails.
Mobile is the future of everything. Mobile is the first thing that people check in the morning for messages, calls, and emails.
Nearly half (49.1%) of all emails are read on mobile devices throughout the world.
If your email marketing campaigns are not optimized for mobile, it reduces your chances of converting subscribers into customers.
Imagine, you send an email to a subscriber who reads the emails on his/her mobile device, but the email is not optimized for that device and doesn't look good, what do you think they do?  Mostly, they will unsubscribe or delete it. Such a situation can make even the best email marketing campaign look worst.
Here are some quickemail marketing design tips that will help you create a mobile-friendly email:
Create one-column mails
Make important text bold centered
Have a single, simple call-to-action button
Use a bigger font size
Have small, clear images
Nobody likes to be sold all the time. You need to send a single sales email for every three value emails. You can offer some value to your subscribers and guide them towards making a purchase. The objective of the value emails might necessarily not be to make a purchase.
If you're going to send only sales emails to your subscribers, they're going to unsubscribe anytime soon. This will lead you to missing out on more opportunities from your email marketing campaign.
You can add value to your best email marketing campaign by:
Sharing feedback, success stories, or testimonials
Giving a solution for their pain point
Providing insight on something related to your business
Giving them freebies or promotional offers like a discount code
5. Test Copy, Design, and Buttons
Just like how the digital marketers test the website, Facebook ads, or Google ads, you can also A/B test the email marketing campaign.
Listed here are a few elements that can be A/B tested to create thebest email marketing campaign.
Subject lines
Call to action
Design
Personalization
Landing page
Target audience
Sender name
Headline
Body text
Images
Colours
With testing, your campaign strategy is not left to guesswork and you will be able to predict how efficient your campaign will be.
The success of your email marketing campaign greatly depends on the type of strategies you use.With the best email marketing strategies in place, you can increase ROI to a greater extent.
Create a custom email strategy today!
Need help creating the best email marketing strategy for your business? Rankraze can help!