Connect With Your Target Audience In Their Native Language
Multilingual/Vernacular marketing services, tailored to connect with your audience across borders
Connect With Your Target Audience In Their Native Language
Multilingual/Vernacular marketing services, tailored to connect with your audience across borders
We Think and Speak In Your Potential Customers' Language
Digital marketing has evolved. You can now easily build connections outside your region or even your country and sell your products or services irrespective of all the differences. In such a connected world, where expansion across borders becomes easy, why does language become a barrier to connecting with your target audience?
If you're a business that is located in India or any part of the world or who has an audience that is based in various places with different languages – you need to be ready to tailor your message based on the varying linguistics.  
That's where a multilingual digital marketing agency like Rankraze steps in.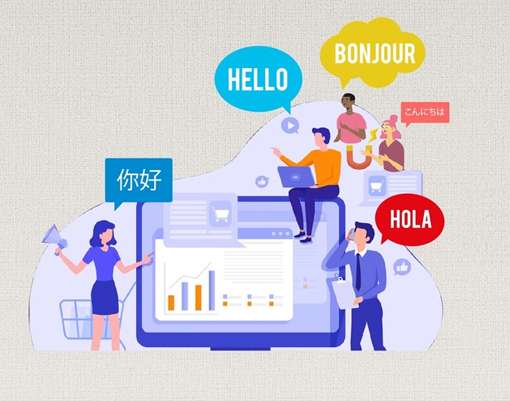 Best Multilingual Marketing Company
With years of experience in digital marketing, Rankraze is currently one of the leading providers of multilingual digital marketing services in Chennai, India. Trusted by some of the best brands and companies, we set industry standards in speed, accuracy, and reliability. 
We are not just translators. Our multilingual marketing team contains linguists, skilled copywriters, researchers, technical writers, and marketing experts who could create all types of marketing content across all sectors based on the territories you are targeting.
As a leading multilingual digital marketing company, we offer comprehensive solutions to strengthen your digital marketing efforts across your focused regions in India. Be it Tamil, Hindi, Kannada, or others, we can create marketing collaterals, in your required language.
We Think and Speak In Your Language
Rankraze is a multilingual marketing company providing exceptional multilingual marketing services to all industries. With our expertise and experience, we're perfectly placed to propel your company to nationwide or worldwide success. 
Whether you have experience marketing to other region customers or are just about to embark on your first-ever regional or overseas marketing, Rankraze's multilingual marketing services can give you what it takes to succeed.
Our Vernacular Marketing Services Cover
Multilingual Marketing Services from Rankraze helps you identify the right target audience and languages based on real data. We develop a realistic plan and follow a bespoke marketing approach to target each language and audience, including the right mix of digital marketing services like SEO, PPC, and Social Media.
Why Rankraze For Vernacular Marketing?
When Teachze, a dedicated online learning platform, needed a rebranding strategy that would help them expand their business, they turned to Rankraze. We created a new brand identity that encompassed all consumer touch-points – from the website to social media and more. Today, Teachze is one of the leading online learning platforms offering learning opportunities for students across India.