IRQS Case Study – Digital Marketing That Truly Makes a Difference
Indian Register Quality Systems (IRQS) is the first Indian certification body and is a division of IRCLASS
Systems and Solutions Pvt. Ltd which in turn is a subsidiary of Indian Register of Shipping (IRS). IRQS
helps organizations bag ISO certification. Apart from certification, IRQS also offers various training
related to management systems.
IRQS came to us hoping we could develop an aggressive SEO strategy and campaign management that
could help them increase visibility, build relationship with potential customers, increase monthly
revenue, and reduce the Cost Per Lead (CPL).
With a clear understanding of what was at stake, RankRaze set about crafting a solution that could make
a bottom-line difference for IRQS. It was only a matter of months before IRQS was not just surviving, but
thriving with a long line of customers.
How did we do it? Here's comes our success strategy
Our objectives for IRQS were as follows
IRQS' goal was to increase their revenue via online but they were unfamiliar with digital marketing or
had no idea where to begin. They primarily had grown their sales through word-of-mouth and other
conventional marketing techniques. However, they wanted to explore digital marketing.
IRQS wanted a partner that would guide them through the digital marketing landscape and help grow
their business.
So, we had to start everything from scratch and give them the desired output within the specified time.
As an SEO-first approach, we started revamping the website to maximize visibility, enhance traffic,
improve user experience, and reduce bounce rate. We optimized the site by including long-tail
keywords, uncovering user intent, organizing the site's content, and creating online training calendar.
To achieve the goal of generating 1000+ leads for webinar, we created 2 stunning landing pages. While
creating landing pages, we experimented with different decisions until we landed on a variation that
was doing far better than the version our client had before coming to us.
This was the landing page they had for ISO 9001 Lead Auditor Training, our starting point: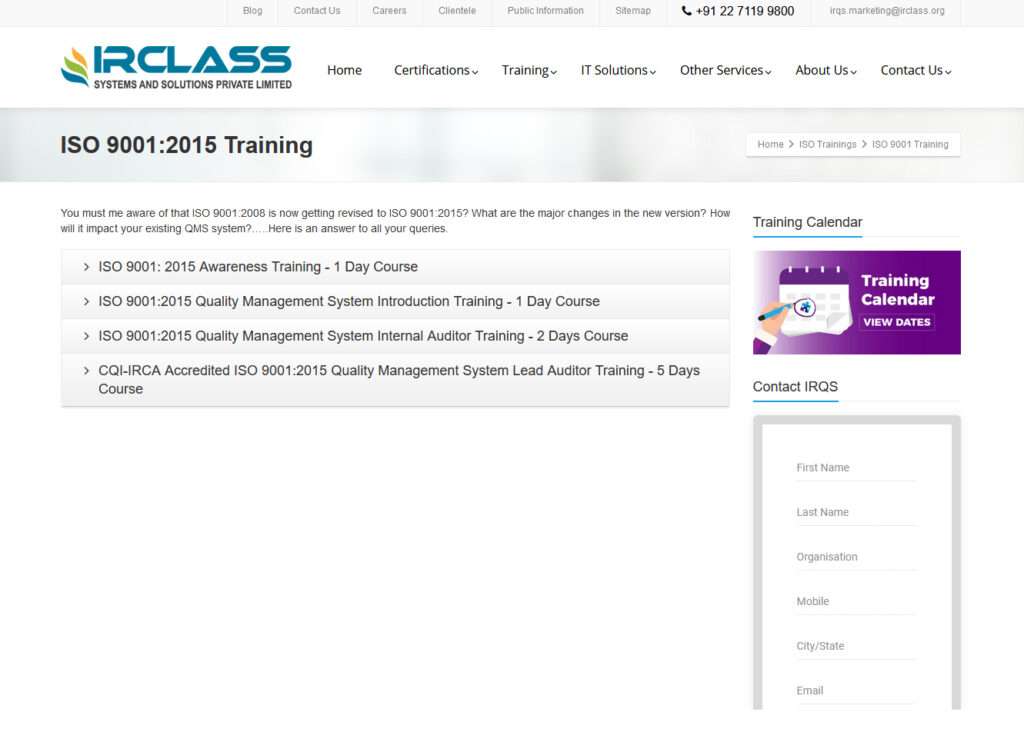 This is the new, fully responsive design we created for ISO 9001 Lead Auditor Training: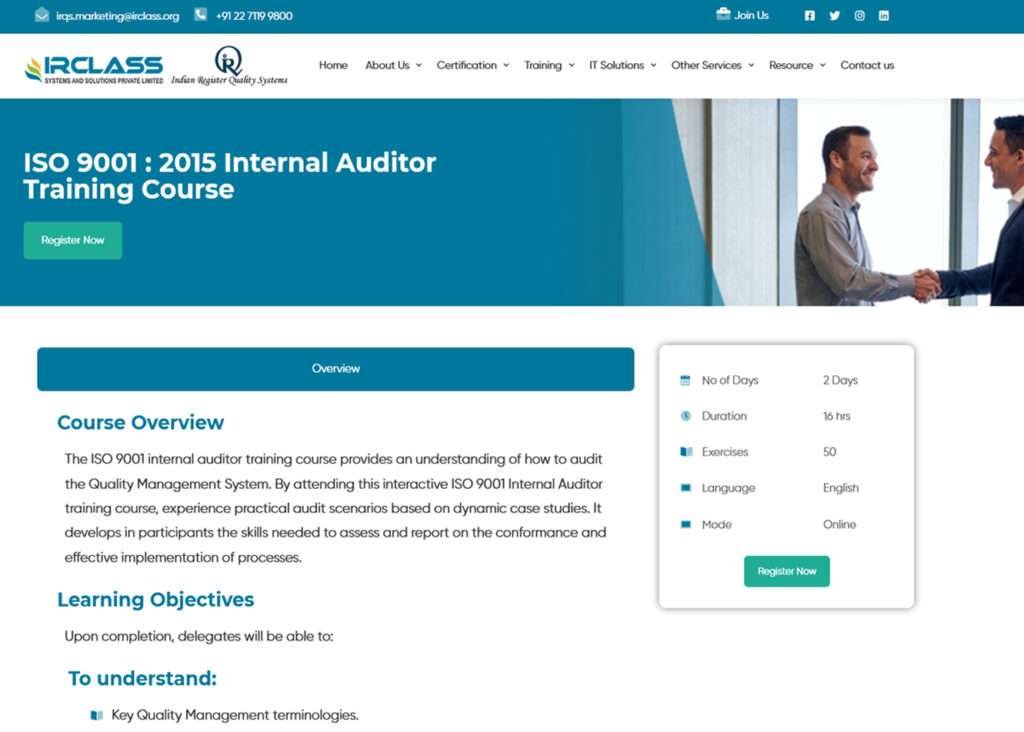 We also used creative link-building process to procure authoritative, relevant links to IRQS from strong
referring domains. We also used exact anchor phrases to target relevant pages according to our core
keyword strategy.

Our SEO strategy is the epitome of what great, focused SEO can do to help a business's survive during incredibly challenging times
2. Strategic PPC Campaign
With the landing page set, it's time to create ads so we can drive traffic and get signups for the webinar. Pay-Per-Click (PPC) is an important digital marketing tactic that we use to drive more qualified traffic and sales in a short period of time. IRQS approached us about a groundbreaking webinar that needed to boost its enrollment numbers. At RankRaze, we focused on creating varied campaigns that would appeal to a range of prospects (Ayush product manufacturers, food sector, business owners, C-Level Executives and professionals), and used target keywords for related webinar. This helped raise awareness of the webinar in previously unengaged audiences. Since we were starting from scratch we decided to place our focus on competitors' keywords. This also gave us insight into what the prospective customers might search for and helped us strategize how to stand out from the competitors. Once the campaigns begun, our PPC consultants tracked the progress of each campaign through conversion and made use of that information to refine the ads. This helped us in targeting the prospects with the most potential. We initially started small. However, as we began to see ROI, we quickly started to scale their campaigns and saw impressive returns on our efforts. Through our efforts, we were able to grow revenue by more than 1 crore!
To get the best results through PPC campaigns, we at RankRaze strongly believe that routine management, consistent monitoring, and keeping up with the trends are highly crucial. In addition to this, other factors such as bid and budget management, ad copy and landing page optimization, and keyword research are vital components of a successful PPC campaign.
3. Strategic PPC Campaign
Social media advertising is a key element of our digital marketing mix. For IRQS, we used our expert knowledge in Facebook ads to reach and engage the target audience. Our main objective was to make the target audience signup for the webinar. We used a wide range of assets like scroll stopping creative and tweaked copy to increase the clicks and conversions on the ads. We were focusing mainly on the pain points of the audience from India, Saudi Arabia, and UAE.
We were pro-active throughout the strategy to gain new followers and engagement. Following up on
any queries in each country and responding to in a short amount of time, added to the success of our
Facebook ads strategy.
Great results were in the bag from the moment we took on the digital marketing for this leading certification body. We proved it's possible to generate leads and get higher ROI for companies with zero to little previous online presence in a short notice